LET'S PLAY LYRICS GURU®
The youngest person deals first. The deal will rotate clockwise.
Match the correct word found within the lyrics of the song.
First, draw the top card from the stock pile. Announce the genre on the back of the card. Turn the card over and announce the song title and the list of four words. When an answer is given, the dealer rubs his finger over the embossed indicators at the bottom of the card, to identify the list number of the correct word.
Next, if the word is correctly matched with the song title, the dealer issues the card to the player, to place in their stock pile. If the word is incorrectly matched with the song title, the dealer places the card facedown in the discard pile. Play now moves to the next player.
WINNING THE GAME
The winner is the first person to collect eight cards, one of each music genre.
FEEL THE DOTS
The dots give you the answer! One to four raised dots are found at the foot of each card. If there are two dots, the word found within the lyrics of the song is list item number two. It's that easy!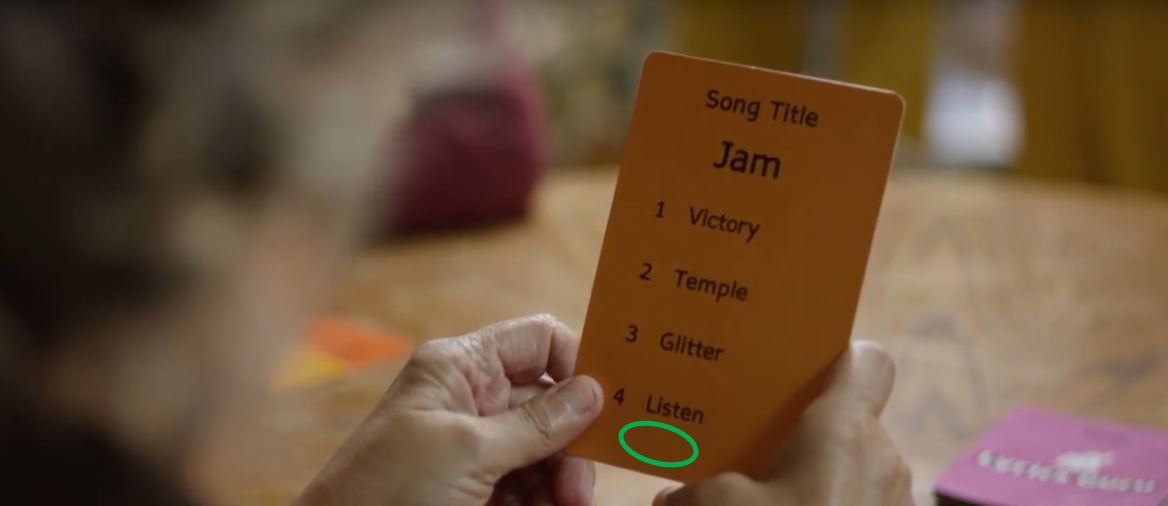 * Contact our sales staff to request pricing for bulk orders over 42 units of the Lyrics Guru card game. *
PRODUCT DESCRIPTION
Designed for those with low vision. See why this song lyrics trivia game with jumbo sized cards, eight color barrier-free suits, large text and embossed indicators is such a popular game. Be the first player to collect eight cards, one of each music genre.
Product Box Dimensions: 180 (hook head extended) x 100 x 36 millimeters
Product Dimensions (80 cards and instructions): 146 x 96 x 32 millimeters
Gross Weight: 0.424 kg
Net Weight: 0.402 kg
Category: Toys & Games > Card Games > Trivia > Music > Song Lyrics
Contents: 80 cards and instructions
Game Type: Matching
Manufacturer Recommended Age: 13+
SKU: LGC_ENGLISH
U.P.C.: 863821000204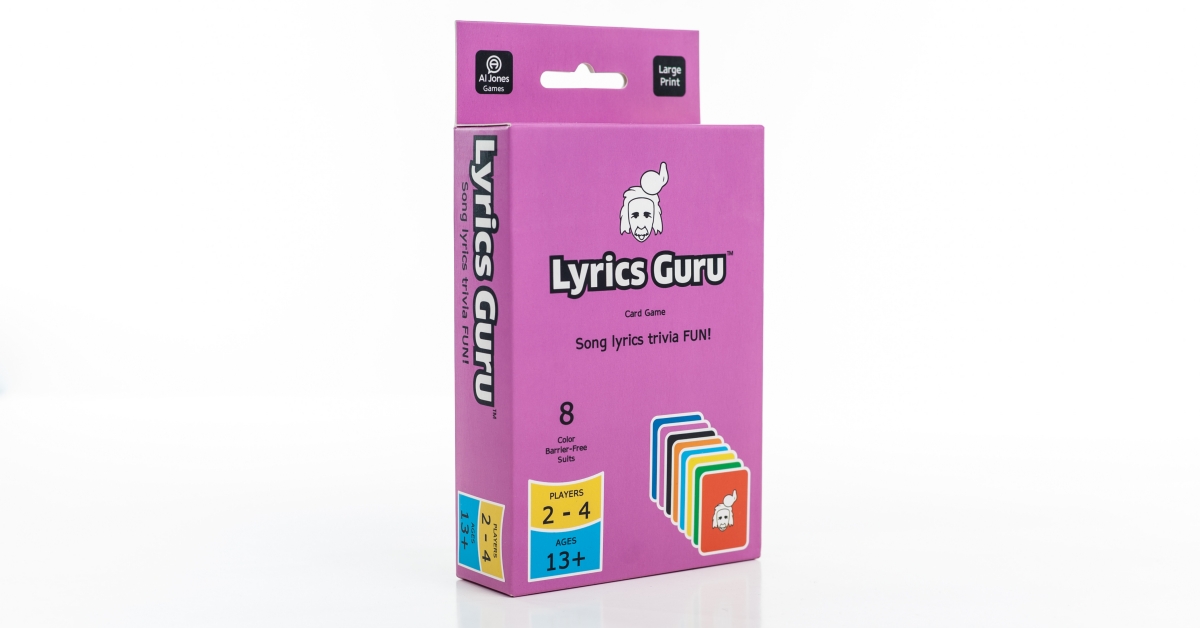 ABOUT THIS ITEM
Features
APHontTM type face for low vision
Eight color barrier-free suits
Embossed indicators
Large 22, 24 and 36 font sized text
Benefits
Encourages turn-taking and social skills
Promotes memory skills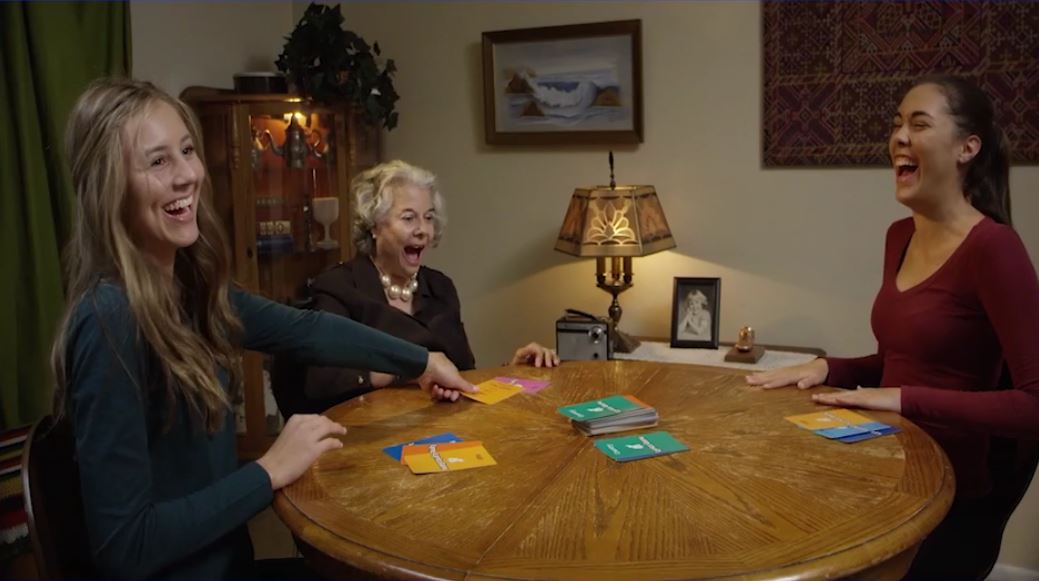 RESTAURANT ENTERTAINMENT
Are you a casual/family style restaurant owner seeking a guest entertainment solution? Contact us to learn how we can create a fun and memorable dining experience in your establishment, with the playing card version of the song lyrics trivia game, Lyrics Guru. We offer competitive profit margins to upsell the complete deck vs bottled alcoholic beverages.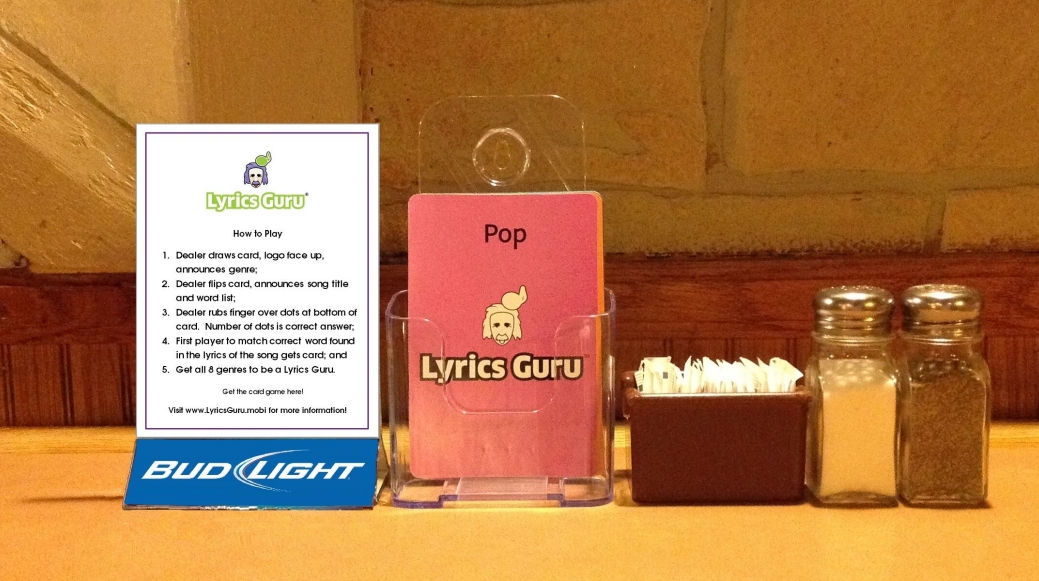 PRODUCT TESTING
Listed below are ten groups we provided sample decks of the card game for beta testing, prior to the release of our retail version. The changes we made, based on their valuable feedback, are now available to you.
Arizona Itinerant for Visually Impaired
Blind Veterans Association - Arizona Central Northern Regional Group
Cave Creek Unified School District #93
City of Tempe Diversity Office
Denny's restaurant #6556 employees and game club members
Foundation for Blind Children
National Federation of the Blind of Arizona – East Valley Chapter
Phoenix VA Health Care System
Southern Arizona Association for the Visually Impaired
Sweetwater School